Anemone Multifida Rubra,Great In Part-Shade,attracting bees&butterflies.
Anemone Seeds- Rubra
Anemone Red Anemone Multifida Rubra is a compact, herbaceous perennial that can be grown from seeds. This Anemone has attractive, light-green, mound-forming, cut-leaved foliage and produces carmine-red flowers with yellow stamens and fluffy seed heads. The established Red Anemone Rubra is a dependable plant that requires very low maintenance and grows well in a partly shaded garden attracting bees and butterflies.
Red Anemone is a fantastic, compact perennial that is just perfect for growing in rock gardens and in the front of the perennial border. Anemone Multifida Rubra grows best in full sun or partial shade and moist, well-drained soil, but this plant can tolerate ocassional drought. Anemone re-seeds itself freely and makes a great cut flower.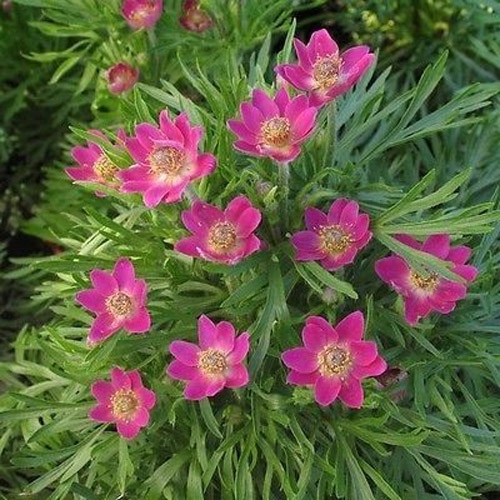 Anemone (Anemone Multifida Rubra) - Anemone Rubra is a charming, low-growing Anemone that is attractive to bees, butterflies and birds. This lovely red blooming Anemone is easy to grow from flower seeds, and it is considered to self-sow freely. Striking, carmine-red flowers float above light green cut-leaved foliage. This native plant is excellent for the front of the perennial border and does well in rock gardens. All Anemone like deep, well-drained soil. Apply a winter mulch in cold climates. Provide some shade from mid-day sun in hot areas. Divide every 3 - 4 years digging deeply and replant immediately.
These perennial flower seeds germinate very irregularly over a long period. It is recommended to refrigerate Anemone seeds for 3 weeks before sowing. After refrigeration, sow Anemone flower seeds in trays to transplant outdoors after danger of frost has passed. Constant moisture must be maintained. Do not leave in direct sunlight. Some gardeners sow Anemone flower seeds directly outdoors in fall.
Flower Specifications
Season: Perennial
USDA Zones: 5 - 8
Height: 12 inches
Bloom Season: Spring
Bloom Color: Carmine red
Environment: Full sun to partial shade
Soil Type: Well-drained, pH 5.8 - 6.8
Planting Directions
Temperature: 60 - 65F
Average Germ Time: 28 - 35 days
Light Required: Yes
Depth: Lightly cover seeds
Sowing Rate: 3 - 4 seeds per plant
Moisture: Keep moist until germination
Plant Spacing: 12 inches