20 Scarlet Runner Bean Mix (Phaseolus Coccineus)Mix of Purple,Red ,White Flowers
Scarlet Runner Bean (Heirloom seeds)
Phaseolus coccinius. 
Open Pollinated
Pretty flowers and fantastic beans all in one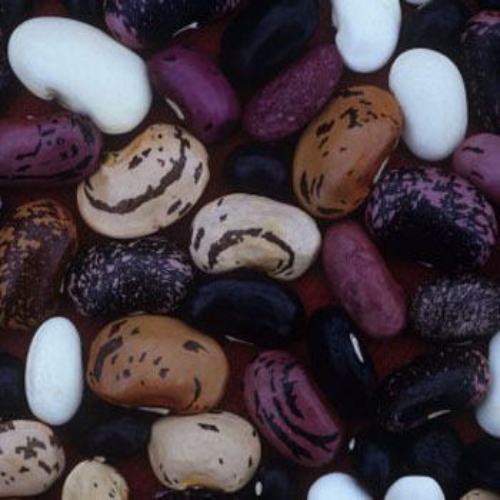 Scarlet Runner Bean Mix (Phaseolus Coccineus Mix) - Every gardener should try growing Scarlet Runner Beans seeds. This unique plant is a decorative runner beans mix with colorful beans, three flower colors and edible young pods. Here are some very interesting facts about Phaseolus Coccineus Scarlet Runner:
They are nutritious, good and healthy to eat

Have a more distinctive flavor than French beans

You can eat the fresh pods after cooking, or harvest seeds from older pods to cook as haricot beans

They are often prolific croppers - with a freezer you can grow enough to last many months

They easily grow in odd spaces amongst flowers, etc...

Scarlet Runner Beans also have attractive flowers

Flat runner beans are not stocked fresh in small fruit and vegetable shops, or in tins or frozen packs

Like other plants of the pea family this crop leaves your soil enriched in nitrogen
Scarlet Runner Beans have brilliant red flowers that last throughout the summer. This wonderful mix has brown, purple, and red flamed beans as well as white. Flowers are scarlet, white, and bi-color red and white. The blossoms are less than an inch across and grow in clusters. The edible beans grow up to a foot long and are especially good when picked young. Pick them often to promote continued flowering. The Scarlet Runner Bean vine will quickly and brilliantly cover fences, trellises and other garden structures and will climb 10 - 12 feet.
Sow Scarlet Runner Beans seeds outdoors after all danger of frost has passed. Plant Phaseolus Coccineus seed 1 inch deep and 3 inches apart. Germination takes 7 - 14 days. Keep the soil moderately moist during germination. Thin 4 - 6 inches apart when plants are 2 - 3 inches tall.
Runner beans are a favorite with hummingbirds and butterflies. Plant some on a back fence or a trellis and enjoy the flowers and the hummingbirds year after year! Plants need full sun and plenty of water. Growing Scarlet Runner Beans is fun and rewarding!
 How to Plant RUNNER BEAN Seeds
Plant 4 inches apart at the base of poles or trellises in rows, 3-4 feet apart. At 60-80° F., they germinate in 8-16 days.
Flower Specifications
Season: Annual
USDA Zones: 3 - 11
Height: 100 - 140 inches
Bloom Season: Late spring to late summer
Bloom Color: Mix
Environment: Full sun
Soil Type: Well drained, pH 6.6 - 7.5
Planting Directions
Temperature: 70F
Average Germ Time: 7 - 14 days
Light Required: No
Depth: 1 inch deep
Sowing Rate: 1 seed per plant
Moisture: Keep the soil moderately moist during germination
Plant Spacing: 6 inches
Seed Planting Depth

Seeds per ounce

Germination Temperature

Days to Germination

Row Spacing

Plant Spacing

100' Row Yield

Sun

1.25"
60-150
70
7-10
24"
4-6"
24 lb.

(fresh)

Full

Planting Tips:

50-60 days for green, 100+ days for dry beans.  Some vines can reach 12' long, so provide adequate support.  Not cold tolerant, beans need warm soil of 65 degrees or better.  Regular harvesting of the young pods will ensure a greater yield.  Grows best in full sun with well watered soil.  Boost yields and germination by adding inoculants.

Make sure to provide adequate support for these vigorous climbers!  A strong fence or twine hung on a strong pole will give them plenty of room to grow and good harvest yields.

Heirloom seeds are hardy but always take care with your garden seeds to give them the appropriate amount of moisture - not letting the vegetable seeds dry out prematurely or overwatering and possibly having them rot.

 
Our seeds are GMO free

We have a wide variety of Heirloom Vegetable, Herb, and Flower Seeds for sale. 


We specialize in, Heirloom, Non GMO Seeds And Organic seeds .
We are well known for selling Heirloom, non-treated, non-GMO, tested seeds!
We have a wide variety of Heirloom Vegetable, Herb, Fruit,and Flower Seeds for sale.
Important, Please Read
All seeds have been test sown to ensure germination. Please familiarize yourself with growing conditions and instructions for your seeds before you plant them, as all seeds are different. Basic growing instructions can be found under each listing.
We Cannot Guarantee how much  you will be able to grow, as too many variables come into play, soil condition, your ability to garden, weather etc. I guarantee that they arrive as described and are in good viable condition and the germination rates are accurate.
PAYMENT
· we accept payments through PayPal only.
SHIPPING
We try our best to ship orders on schedule, however during peak season (January-May) package may delayed.
Yes We Combine Shipping!
If you are purchasing multiple items and wish to take advantage of our combined shipping rates, Place each item in your eBay shopping cart until you are finished shopping.
Always use eBay Shopping Cart to collect, buy and pay at once for all the seeds together to avoid possible shipping over-payments.
Please Pay for all Your items at once, Combine shipping discounts does not apply to item that has been purchased and paid separately.
We always ship using PayPal shipping address. Please make sure your Current address is up to date with PayPal. We are not responsible for packages that are lost due to an incorrect shipping address.
FOR INTERNATIONAL BUYERS
If you are purchasing multiple items and wish to take advantage of our combined shipping rates, Place each item in your eBay shopping cart until you are finished shopping.
"Request Total From Seller"

If checkout makes a mistake figuring combined shipping, I will refund the amount.
· Most items will be shipped via USPS.
· We do offer any express or overnight shipping.
· Any questions regarding shipping or items, please feel free to contact us.
TRACKING
· Most Domestic (US) packages include Online Tracking Number.
· If the tracking information showing that your item has been delivered and you did not receive your order, please go to your local USPS (Post Office) and take your tracking # information with you.
Shipping to: United States, Canada, United Kingdom, Denmark, Romania, Slovakia, Bulgaria, Czech Republic, Finland, Hungary, Latvia, Lithuania, Malta, Estonia, Australia, Greece, Portugal, Cyprus, Slovenia, Japan, China, Sweden, Korea, South, Indonesia, Taiwan, South Africa, Thailand, Belgium, France, Hong Kong, Ireland, Netherlands, Poland, Spain, Italy, Germany, Austria, Israel, Mexico, New Zealand, and Singapore.
INTERNATIONAL
· International USPS First Class mail does not include online tracking.
· International PRIORITY and EXPRESS mail includes online tracking.
· Buyers are responsible for customs duties, taxes, and/or fees.
· Unclaimed packages do not qualify as a lost package.
· International shipping by USPS can take up to 30 days or longer. Please be patient.
RETURN POLICY
RETURN YOUR ORDER FOR A REFUND, We will process your refund when we receive your return.
· Original shipping fees & Handling charges are Non-Refundable.
· Unclaimed packages do not qualify as a lost package.
· International shipping by USPS can take up to 30 days or longer. Please be patient.
· Most items are returnable if they are returned in the condition in which they were received.
· All shipping costs will be the responsibility of the buyer.
· If an item was unintentionally misrepresented or a mistake was made on our part, we will make it right!
· Please contact us to arrange an exchange, return/refund.
 
FEEDBACK/QUESTION
· If you have any concerns or questions, please do not hesitate to contact us.
· Please read descriptions and/or questions prior to committing to your purchase.
· All messages will be responded within 1-2 business days.
· We would greatly appreciate if you would reciprocate upon receipt of your purchase.
· If there is a problem with your order, give us a chance to make it right before leaving negative feedback.
Additional Policies and FAQs
What is an heirloom or heritage seed?
The terms heirloom and heritage are synonymous. An heirloom plant is an open-pollinated, cultivated plant, or cultivar. Heirloom plants are not used in modern large-scale agricultural, but they were traditionally grown during earlier periods in human history. All heirloom seed are open-pollinated.
What is the difference between open-pollinated and hybrid seeds?
Open-pollinated plants are pollinated by birds, insects, wind, or other natural means. Under these conditions the plant will produce seeds naturally. When these seeds are harvested and re-planted they will reproduce the same plant as the parent. Conversely, a hybrid plant is the result of controlled pollination of inbred parent plants. The plant's seeds are often sterile and, if they do germinate, they will not reliably produce the same plant as the parent or the yields.
What is the difference between GMO and non-GMO seeds?
A genetically modified organism (GMO) is an organism whose genetic substance has been changed using genetic engineering methods. Non-GMO seeds have not been genetically changed, and they are traditionally the same as they were originally created. Non-GMO seeds have all of the nutrition that animal and human bodies need for maximum growth and nutrition. Traditional seeds grow into plants that have been consumed for thousands of years. Non-GMO seeds offer you the peace of mind that the foods you grow and eat are as nature intended.
Thanks for Shopping with Us!
---
On May-01-13 at 21:55:30 PDT, seller added the following information:
FREE! Sellers: Add a FREE map to your listings. FREE!