15 Tulip Silverstream , Giant Darwin Hybrids , Flower Bulb
Did you know that there are over 3,000 unique varieties of tulips?! Tulips were first introduced to Europe in 1559 and over the next 100 years led to a speculative craze in which single tulip bulbs were sold for over 10 times the annual income of a skilled craftsman.
Today tulips are loved for their beautiful, upright flowers and gorgeous array of colors.
Tulip Silverstream
This very lovely and unusual tulip is soft creamy yellow, sometimes streaked with red and white. The color varies over time and may start with a delicate chartreuse edge. The leaves have a fine pinkish yellow edge and are attractive in their own right.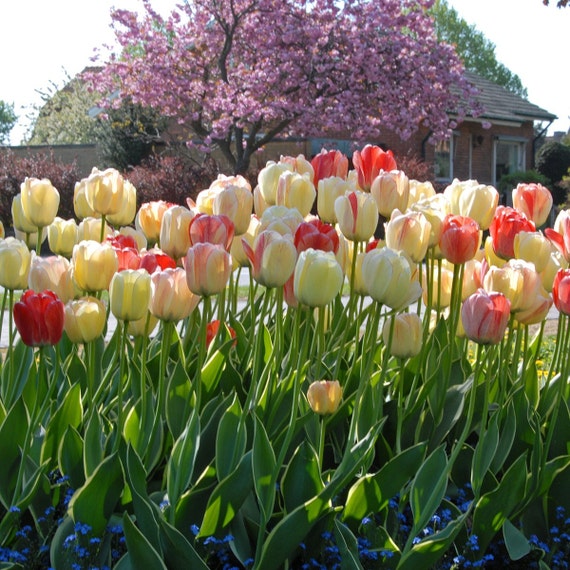 Planting Growing Instructions
Tulip bulbs should be planted in late autumn, with the pointed end facing upwards, at a depth of approximately 3 times their height. Make sure that they are planted deep enough - shallow 
planing may prevent the bulbs receiving the necessary winter cold period that is essential for them to produce flowers in spring. Choose a sunny position in moist, free draining soil.
Plant bulbs in well dug soil about 8-10cm deep and approx 10-15cm apart. It is often beneficial to use a little bonemeal or super phosphate mixed in with the soil. Tulips delight during their growth in a sunny location.
Cultural Instructions
After the tulips have bloomed and when leaves fade and turn brown the bulbs can be lifted, dried, cleaned and stored in a cool place until planting time. Tulips should not be grown in the same soil for several years, so replace with fresh soil every other year.
Type: Fall Planting Bulbs - Plant in Full Sun or Partial Shade
Zone: 3-7a - Pre-cool Zone: 7b-10
Bloom Time: Mid Spring
Average Height: 14-20
We have a wide variety of Organic, Heirloom, Rare,Exoctic, Open-pollinated & NON GMO ,Vegetable, Herb, Fruit, and Flower Seeds for sale.
USDA Hardiness Zone -First Frost Date- Last Frost Date
Zone 1 -July 15th -June 15th
Zone 2 -August 15th- May 15th
Zone 3 -September 15th May 15th
Zone 4 -September 15th May 15th
Zone 5 -October 15th April 15th
Zone 6 -October 15th April 15th
Zone 7 -October 15th April 15th
Zone 8 -November 15th March 15th
Zone 9 -December 15th February 15th
Zone 10 -December 15th January 31st (sometimes earlier)
Zone 11 -No frost. No frost.
You can look up your climate zone here: http://planthardiness.ars.usda.gov/PHZMWeb/
Good stuff
Nice bulbs, had a slightly warm day to get them planted , but the squirrells are into the flower bulbs....