1000 Cosmos 'Gloria' Pink w/Purple Eye - Bees, Butterflies & Seeds for birds
Cosmos plants are tough, self-supporting, heavy blooming & easy to maintain.
Dwarf Cosmos are bushy and compact. Grow in pots, beds, or borders.
Flowers brightly colored, long blooming, excellent cut, and attract butterflies.
GLORIACosmos Seeds
Beautiful, showy rosy-pink flowers have a contrasting crimson eye and yellow center. Heavy blooming, 4-5 foot tall plants.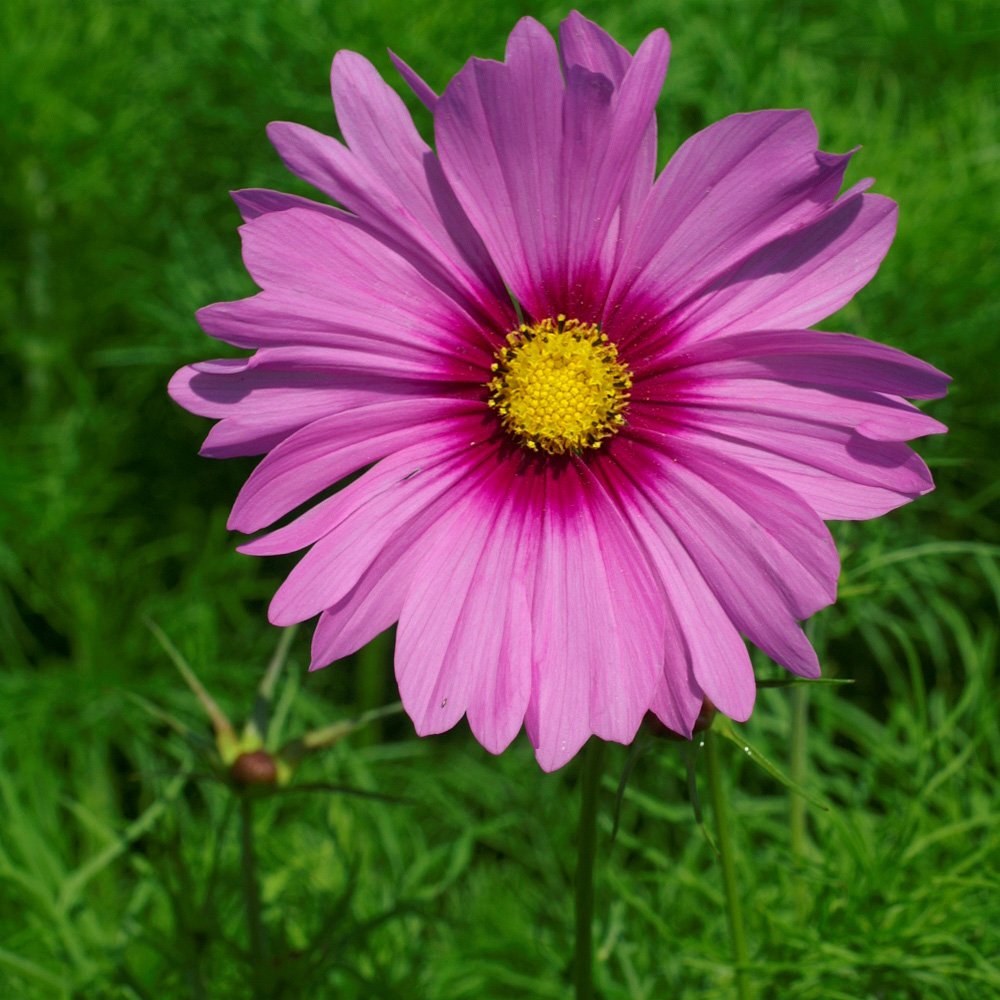 Cosmos (Cosmos Bipinnatus Sensation Gloria) - Cosmos is one of the easiest flower seeds to grow, and it is just as easy to maintain! These gorgeous annuals thrive with neglect, and they are perfect for the weekend gardener. Cosmos Bipinnatus Gloria has large, 4 inch blooms of rosy-pink with a crimson and yellow eye. They are incredibly beautiful when planted in mass. A sunny location and moderate water is all that Cosmos need to perform well. Don't even apply fertilizer as it tends to produce unusually tall, lanky plants with few blooms.
Originally, Cosmos came from wildflowers, of course, and are native to our own southwest and more commonly, Mexico. These annuals also go by the name of Mexican Aster. Cosmos Mexican Aster does well in hot, desert type areas, but they easily adapt to many conditions and thrive. Cosmos are known as an excellent cut flower with a vase life of 7 - 10 days. Cut the blooms in the early morning hours, and select stems with flowers that have just opened. Remove the leaves below the water line, and enjoy a beautiful bouquet!
Directly sow Cosmos Mexican Aster flower seeds into prepared seed beds after danger of frost has passed. Sow the Cosmos flower seeds in rows, 18 inches apart. Sow 6 seeds per foot. Lightly cover Cosmos seeds with 1/16 inch of soil. Keep flower seeds moist. Thin to strongest plant 12 inches apart. Or, if you're not into measurements, Cosmos flower seeds can be scattered onto the prepared soil. Lightly rake the soil over the Cosmos seeds at a depth of 1/16 inch. Keep the Cosmos flower seed moist until germination. They perform well even when crowded.
Flower Specifications
Season: Annual
USDA Zones: 3 - 10
Height: 36 - 48 inches
Bloom Season: Summer and fall
Bloom Color: Rose
Environment: Full sun to partial shade
Soil Type: Well-drained, pH 6.1 - 7.4
Planting Directions
Temperature: 70 - 85F
Average Germ Time: 14 - 21 days
Light Required: Yes
Depth: 1/16 inch
Sowing Rate: 6 seeds per plant
Moisture: Keep seeds moist until germination
Plant Spacing: 12 - 18 inches