Holy basil Seeds,Holy basil,An Herb Native To India,known As Tulsi !
 Please Use Dropdown Box to Order
ORGANIC BASIL SEEDS
Holy basil Seeds,Holy basil,An Herb Native To India,Where It Is known As Tulsi !
Basil fresh from the garden is a sensory delight—one of life's simple pleasures. This staple herb of Thai, Italian,Vietnamese and Indian cuisine is quickly finding its way onto more and more dinner tables, particularly in pastas and salads. 
Ram Tulsi or Green Holy Basil seeds (Ocimum sanctum)
Holy basil has both medicinal and spiritual importance in India. It is sacred to Lord Vishnu, the Hindu god of preservation and is considered purifying to mind, body, and spirit. A living Tulsi plant is kept in many Indian courtyards where it is believed to provide divine protection. Medicinally it's been used in the treatment of colds and flus, to cleanse the respiratory tract of toxins, and in the relief of gas and bloating. The oil is an antioxidant and is used for pain and arthritis. Recent scientific reports have confirmed the healing potential in medical conditions ranging from diabetes to cancer. Furthermore, Tulsi may even possess useful antibiotic activity, have a blood pressure lowering effect and be effective as a birth control agent.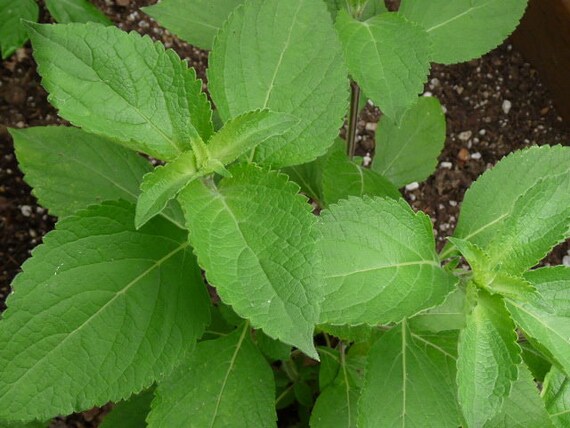 Holy Basil Nicobar
Holy basil is an herb native to India, where it is known as tulsi. It is sacred in the Hindu religious tradition and is regarded as one of the most important plants used in Ayurvedic medicine. The plants are large and bushy 
with a nice, spicy, clove-like, musky flavor, and aroma. This is a green leaf variety.
Green Holy Basil (Ocimum Tenuiflorum)
 - Holy Basil is a widely cultivated herb plant that can be grown from Basil seeds. It is a tender perennial, and in many areas is grown as an annual. Holy Basil is a bushy, aromatic herb that is native to Asia but now is grown in many warm climates world-wide. It has a pungent, peppery flavor and can be used as a culinary herb. There are two main types of Holy Basil: green-leaved and purple-leaved.
Holy Basil plants are extremely important in the Hindu religion. In the Hindu religion the herb plants, called Tulsi, are worshiped morning and evening. As a medicinal herb, Tulsi Holy Basil is used to fight fevers associated with malaria, dengue fever, colds and flu by making a tea from the leaves. The Holy Basil teas also soothe sore throats, coughs, and respiratory ailments. Holy Basil is considered to be an adaptogen and helps protect the body against stress.
How To Grow Holy Basil From Herb Seeds: 
Start the Holy Basil herb seeds indoors 6 - 8 weeks before the end of frost season. Use a good, sterilized seed starting mix. Keep the soil moist but not saturated until germination occurs. In warm climates, the Basil seeds can be directly started outdoors in prepared seedbeds. The Holy Basil plants benefit from regular fertilizer feeding. Start feeding once the first true leaves appear, and used a diluted liquid fertilizer, like fish emulsion, every other week
Culinary tips:
 This herb can be eaten fresh, dried, made into tea or used as a supplement. Used in many Thai and Indian cuisine dishes. The spicy aromatic leaves are a nice garnish with Asian noodle dishes.
Herb Specifications
Season: Perennial
USDA Zones: 9 - 11
Height: 20 inches
Bloom Season: Mid summer to early fall
Bloom Color: Pink
Environment: Full sun
Soil Type: Well-drained, pH 6.1 - 7.3
Planting Directions
Temperature: 70F
Average Germ Time: 7 - 14 days
Light Required: Yes
Depth: 1/4 inch
Sowing Rate: 1 seed per inch
Moisture: Keep seeds moist until germination
Plant Spacing: Rows 18 inches a part; thin seedlings 6 inches